Ascension| demo
Ultra-Powerful Dance Music Station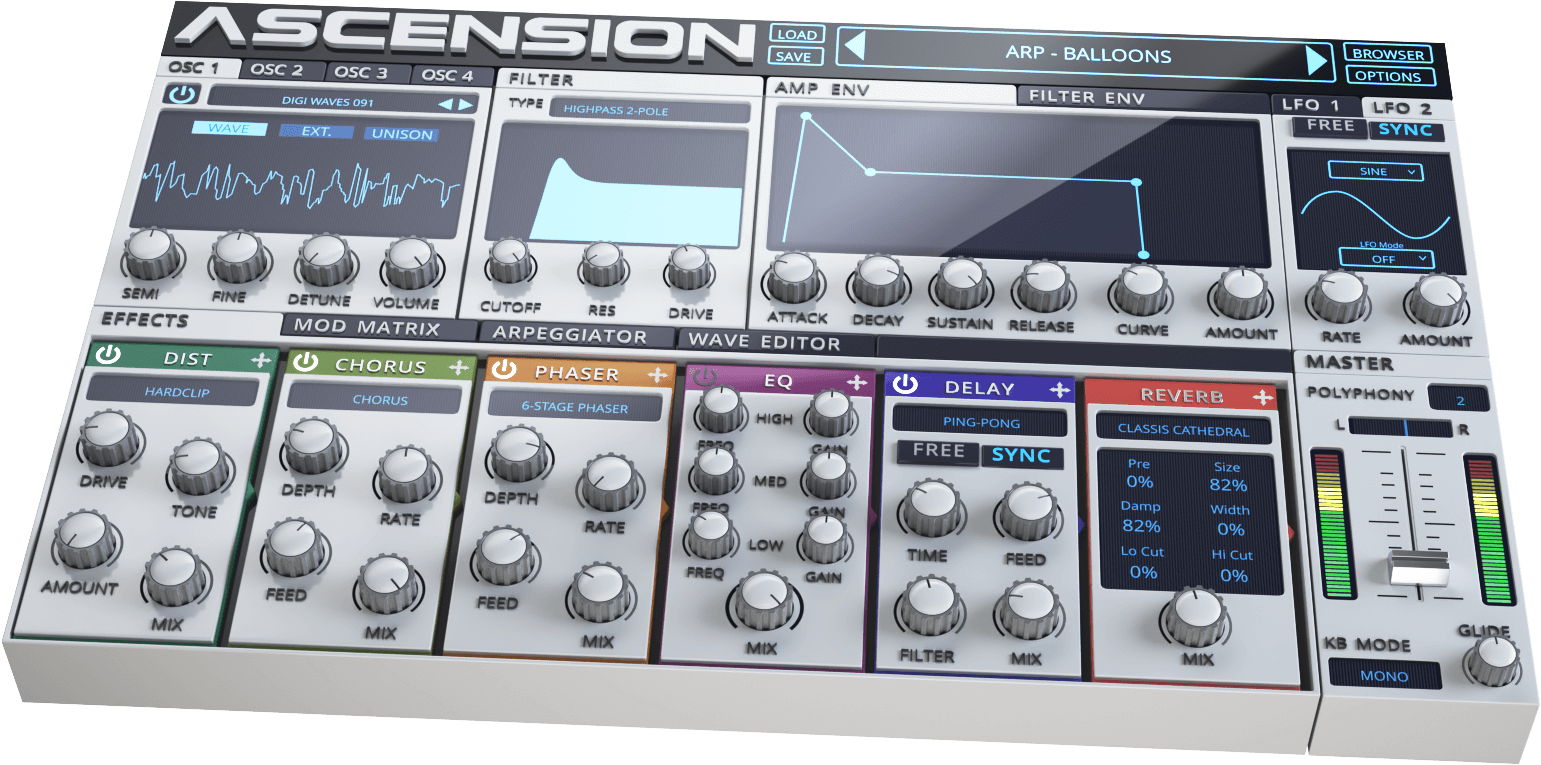 We are proud to announce our new partnership with Cubic Audio to release an exclusive edition of the plugin Ascension. Our exclusive release will include an expansion with nearly 1600 presets!

Ascension is our ultra-powerful dance music workstation. It's a cutting-edge synth, a huge ROM sound library and a vast collection of tried-and-tested track-ready royalty-free MIDI files in one glorious package. It's everything you need and more!
W. A. Production Special Edition Short Points:
Total Presets: 1589
W. A. Production Special Edition Presets: 288
W. A. Production Special Edition Multi-Sampled ROM: 533 MB
Version 1.5.1 Expansion Presets: 88
Oscillator Waveforms: 1515
Multi-Sampled ROM: 1405 / 6.87 GB
MIDI Arpeggiator Loops: 3406
Features:
4 Subtractive, Waveform & ROM OSCs
Arp With MIDI Player Mode
Drag N Drop MIDI To Your DAW
Light & Dark Skins
Multi FX Unit
Drag N Drop FX Chain
ADSR Envelope
ADSR Filter Envelope
4 Auxiliary Envelopes
32 Modulation Destinations
16 Filter Types
New version 1.5 features
Completely New Sound Browsing Experience
4K Ready, Resizable GUI
New Filter Models & Types
Improved Reverb FX
New Mod Matrix (32 Destinations)
256 New Presets (1522 Total)
120 New Waveforms (1311 Total)
743 MB New ROM (6.55 GB Total)
New version 1.5.1 features
Native Support for M1 Silicon Mac OS 11.
VST2 Support Discontinued.
CPU/ Voice/ OSC usage bars under Settings.
Added choice for CPU or GPU UI rendering under Settings.
Filter bypass feature.
Fixed Arp bug on muted notes.
Fixed MIDI Arp bug.
Fixes to oscillators.
Fixes to LFO.
Reset on Effects/ Arp/ Mod Matrix fixed.
Preset name on VST3 fixed on projects.
Unison ROM bug fixed.
Waveforms correctly updated on preset load.
Mod matrix updated correctly on mod preset load/change.
Wavetable generation bug fixed.