Pumper|Free With Every Purchase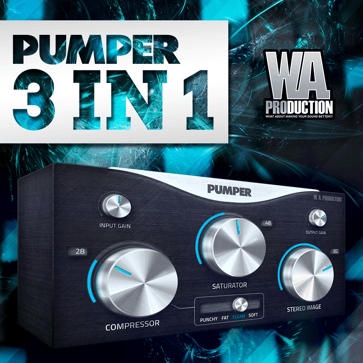 Please note:
Each Customer is Eligible to Claim 1 x Copy of Pumper Only
This offer is non-transferable. If you already own Pumper, we are unable to offer an alternative product.
You cannot resell your Pumper license.
(Offer ends 2nd December 2019)
Pumper is a superb all in one audio tool. It provides killer options to send your productions over the top. You can use this amazing plug in on individual channels or on the master buss. It is so versatile for any style of music!
Get a super high end studio sound in a very simple and easy to use plug in. There are so many dimensions and applications to this plug in.
You can tame the highs or control low end with the compressor. Get that in your face vocal or bass sound, or bring out some ambience and fx in your productions.
Features:
An accurate and punchy compressor with 4 variations.
A rich and easy to use Saturator for instant power.
A wide Stereo Image to make your tracks big with a wide stereo imagery .
Learn more about Pumper HERE.
How to claim your FREE copy of Pumper
2) Go to your cart. You can also access your cart by clicking the 'Cart' button in the top right corner.
3) Pumper will automatically be added to your cart. If you do not wish to receive Pumper, remove it from your cart by clicking on the X icon.

4) Complete your transaction as normal.
5) Go to your W. A. Production User Account. You can also access your account by clicking the 'My Account' button in the top right corner.
6) Pumper will be available under the latest order.