Imprint|Free With Every Purchase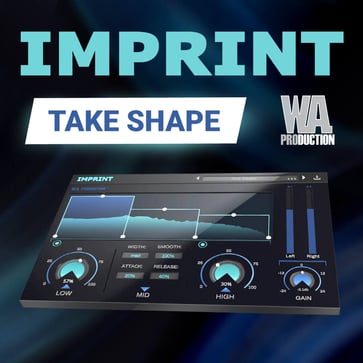 Please note:
Each Customer is Eligible to Claim 1 x Copy of Imprint Only
This offer is non-transferable. If you already own Imprint, we are unable to offer an alternative product.
You cannot resell your Imprint license.
(Offer ends 2nd February 2020)
Transient shaping is the key to getting your audio upfront and punchy. Whether it's adding extra power to your kicks, or taming the tails of your synth lines, a decent transient shaping plugin should be an essential part of your music making arsenal. At WA Production, we don't just do decent… we only do extraordinary!
'Imprint' is an innovative multiband transient designer featuring real-time display, 3 frequency bands, adjustable crossover points and advanced parameters. Running in all major plugin formats for Mac and PC, Imprint will add upfront definition to any audio with a range of useful presets and intuitive user controls.
System Requirements:
Windows 7 or higher (32 / 64 bit)
Mac OSX 10.5 or higher (32 / 64 bit)
AAX - ProTools 11 or higher
Learn more about Imprint HERE.
How to claim your FREE copy of Imprint
2) Go to your cart. You can also access your cart by clicking the 'Cart' button in the top right corner.
3) Imprint will automatically be added to your cart. If you do not wish to receive Imprint, remove it from your cart by clicking on the X icon.

4) Complete your transaction as normal.
5) Go to your W. A. Production User Account. You can also access your account by clicking the 'My Account' button in the top right corner.
6) Imprint will be available under the latest order.