SphereDelay | demo
try before buy!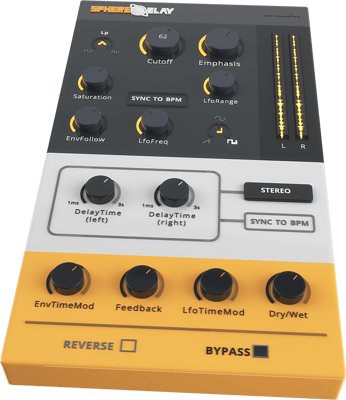 SphereDelay is an innovative Multimode Delay Effect Plugin. We developed this plugin for the producers around the world who want something more when it comes to effects. The basic plugins that give the same Delay presets that we all know and are familiar with, whether it be DAW stock Delay plugins or third party Delay plugins that just aren't enough. We wanted to add something new to the table. We believe that Beginner and Experienced producers will enjoy the sleek and easy workflow of SphereDelay as well as the pure customization of your Delay sound. We believe SphereDelay would give you a totally new depth experience, with a wide variety of customization features that makes the sounds it provides unique and limitless.
SphereDelay comes with a variety of different effect modules like;

- Variable State Filter – (High-Pass, Low-Pass, Band-Pass) stereo linked 24db/oct self oscillating filter.
- Saturation – Analog Tape Style Saturation, to get the warm classic sound of a real Tape Delay.
- Delay Modes
* Mono
* Stereo
* Ping-Pong
* Ping-Pong Separate
- Envelope Follower - to modulate the filter cutoff and the delay time.
- LFO – with variable waveforms to modulate the filter cutoff and the delay time.
- BPM Sync – The delay time and the LFO frequency can be synced to your project tempo to create rhythmic effects.